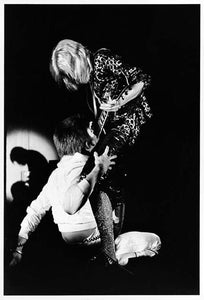 Mick Rock, Bowie / Ronno Shadow Fellatio UK 1972, 2013
Regular price £208.33 Sale
2013
Lambda C-print
46 × 31 cm
Edition of 50 + 5APs, signed and numbered

Mick Rock (aka The Man Who Shot the Seventies) is known for his iconic photographs of Rock & Roll legends, such as Syd Barratt, Iggy Pop, and Queen.

He became David Bowie's official photographer and took the most iconic and memorable images of Ziggy Stardust. For the ICA, Rock has allowed us to access this extraordinary image of Mick Ronson and Ziggy Stardust as an exclusive signed and numbered limited edition. This print accompanies MickRonsonfest, part of a programme of festivals held at the ICA exploring the work of influential musical artists.

Born in 1948, British photographer Mick Rock has had major exhibitions in London, Liverpool, Berlin, Manchester, New York, Los Angeles, Oslo, Stockholm, Amsterdam, Rotterdam, Tokyo, San Francisco, and Las Vegas.

Important note: If your delivery address is not within the United Kingdom, you may be subject to import duties, taxes and delivery service charges, which are levied once a shipment reaches your country. You will need to pay any additional charges for customs clearance. Please note that customs policies vary widely from country to country, and we advise you to contact your local customs office for further information. Since January 2021 that includes all countries in Europe.

Or alternatively you can organise your own courier at your own risk in which case we can provide collection information.

Collection from the ICA is FOC.
Please note that by purchasing one of our limited editions you are agreeing to our Terms and Conditions.
This work can be purchased with Own Art, which allows you to spread the cost of your purchase over ten months, completely interest free.
We work with contemporary conservation framers Frame London to provide the best framing options for your Limited Edition.  
For more information on framing options and OwnArt applications, please contact editions@ica.art