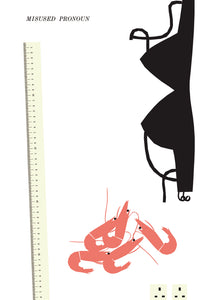 Matthew Brannon, Misused Pronoun, 2009
Regular price £458.33 Sale
LAST ONE REMAINING
2009
Silkscreen print

61 × 46 cm

Edition of 150 + 5APs, signed and numbered


Matthew Brannon is best known for his letterpress and silkscreen prints, which set up elusive relationships between images and texts. His prints frequently include images that would not look out of place in a cookbook, juxtaposed with unsettling or inappropriate sentences. Often recalling the language of advertising and posters – particularly from mid century America – his works explore the potential of words and images to communicate but also to confound.

The artist sees his print for the ICA as both casual and deadly serious. The objects depicted – that include a ruler, a brassiere and some shrimps – suggest ways of measuring worth, while the text apparently derives from a pedantic grammatical criticism. The combination can be read in literal or nonsensical ways.

Important note: If your delivery address is not within the United Kingdom, you may be subject to import duties, taxes and delivery service charges, which are levied once a shipment reaches your country. You will need to pay any additional charges for customs clearance. Please note that customs policies vary widely from country to country, and we advise you to contact your local customs office for further information. Since January 2021 that includes all countries in Europe.

Or alternatively you can organise your own courier at your own risk in which case we can provide collection information.

Collection from the ICA is FOC.
Please note that by purchasing one of our limited editions you are agreeing to our Terms and Conditions.
This work can be purchased with Own Art, which allows you to spread the cost of your purchase over ten months, completely interest free.
We work with contemporary conservation framers Frame London to provide the best framing options for your Limited Edition.  
For more information on framing options and OwnArt applications, please contact editions@ica.art