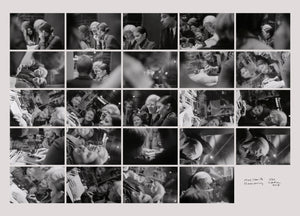 Marc Camille Chaimowicz, Andy's in Town, 2018
Regular price £5,000.00 Sale
2018
Silver Bromide
129 x 179cm
Edition of 20 + 5APs

The Institute of Contemporary Arts is pleased to present Andy's in Town, a new edition by Marc Camille Chaimowicz, made exclusively for the institution.

Marc Camille Chaimowicz was born in 1947 in postwar Paris to a Polish Jewish father and French Catholic mother. The family moved to England when the artist was eight years old and settled in London, where he still lives and works.

Chaimowicz established himself in the 1970s London art scene as an artist who merged performance and installation art in a manner as playful as it was critical and sensual. His cross-disciplinary work in painting, drawing, collage, sculpture, installation, furniture, lighting, ceramics, textiles and wallpaper challenges the categorical divisions between art and design.

This edition is composed of images that Chaimowicz took in 1975 of the artist Andy Warhol signing copies of his iconic text, The Philosophy of Andy Warhol (From A to B & Back Again). Chaimowicz, then a recently graduated art student, had heard about Warhol's book signing at Foyles Bookshop, and decided to attend to pay homage to one of his heroes. On arriving at the store, Chaimowicz was met by throngs of like-minded attendees, queuing out of the door and up the Charing Cross Road. In the line, Chaimowicz began critically questioning his actions and, feeling disgruntled at the parasitic nature of fandom, turned on his heel before entering the building and without meeting Warhol face to face. However, as was the norm for the artist, Chaimowicz had been taking photos on his Olympus OM-1 during the wait.
Forty years later, Chaimowicz chanced upon an undeveloped role of Ilford 400 film, the developed results are the images that we see combined here. Produced as a traditional silver bromide print, the enlarged contact sheet envelops the viewer, prompting a visceral response. Physically glossy, as Warhol himself was, the material qualities of the work communicate the essence of the era during which the photos were taken and the circumstances of their capture – through the store window. Recording, almost romantically, the action of Warhol signing his book, alongside the adoration of his fans, the edition communicates the disquieting position of the voyeur, the silent, all-absorbing watcher. Warhol, a famous voyeur himself, is here out-voyuered by Chaimowicz.
Capturing an iconic moment in art history, the edition will be accompanied by a publication of the same title, which is to be launched at Paris Internationale, 2018. The images will also be used in a future exhibition to be produced by Chaimowicz in 2020.
Andy's in Town was produced in partnership with Metro Imaging, London's most trusted pro-lab at the forefront of photography.

Marc Camille Chaimowicz's works are in the Museum of Modern Art, Tate Modern and Victoria and Albert Museum collections. His first solo museum exhibition in the United States was on view at the Jewish Museum in New York in March 2018. Selected solo exhibitions include The Jewish Museum, New York (2018); Serpentine Galleries, London (2016); Flat Time House, London (2016); Indipendenza, Rome (2016); Andrew Kreps Gallery, New York (2014); Focal Point Gallery, Southend-on-Sea (2012); MD72, Berlin (2011); Nottingham Contemporary (2011); Inverleith House, Edinburgh (2011); Secession, Vienna (2009); Artists Space, New York (2009); De Appel, Amsterdam (2008); and Cabinet, London (2000).
Important note: If your delivery address is not within the United Kingdom, you may be subject to import duties, taxes and delivery service charges, which are levied once a shipment reaches your country. You will need to pay any additional charges for customs clearance. Please note that customs policies vary widely from country to country, and we advise you to contact your local customs office for further information. Since January 2021 that includes all countries in Europe.

Or alternatively you can organise your own courier at your own risk in which case we can provide collection information.

Collection from the ICA is FOC.
Please note, by purchasing one of our limited editions you are agreeing to our Terms and Conditions.
This work can be purchased with Own Art, which allows you to spread the cost of your purchase over ten months, completely interest free.
We work with contemporary conservation framers Frame London to provide the best framing options for your Limited Edition.  
For more information on framing options and OwnArt applications, please contact editions@ica.art