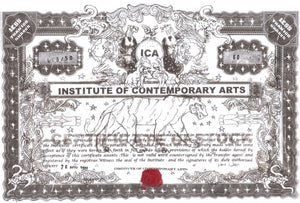 Hew Locke, Preferred Stock, 2011
Regular price £54.17 Sale
2011
Digital Pigment print on Somerset enhanced 300gsm paper
31 × 21 cm
Edition of 50 + 5 APs, signed and numbered

Hew Locke explores the subject of power, particularly through the representation of royal portraiture, coats-of-arms, public statuary, trophies, company share certificates, weaponry and costume. In his early works, Locke began to see the Royal Family, and specifically the Queen's official portrait, as a vehicle through which he confronted and evaluated his experiences of growing up. With this subject, his work began to engage with the embodiment of power, building amalgamations between different cultures and colonial histories.

Successfully merging influences from both Guyanese and British cultures, Locke delves deeply into the history behind the subject matters and objects involved in his works. Unifying this knowledge with his creative vision he creates pieces that stand on a crossroad of cultures, mediums and historic references.

Hew Locke (born 1959 in Edinburgh, UK) spent his formative years (1966-1980) in Guyana before returning to the UK to complete an MA in sculpture at the Royal College of Art (1994). Recent works have been included in The Folkestone Triennial (2011) and the 54th Venice Biennale (2010). Locke currently lives and works in London, UK.

Important note: If your delivery address is not within the United Kingdom, you may be subject to import duties, taxes and delivery service charges, which are levied once a shipment reaches your country. You will need to pay any additional charges for customs clearance. Please note that customs policies vary widely from country to country, and we advise you to contact your local customs office for further information. Since January 2021 that includes all countries in Europe.

Or alternatively you can organise your own courier at your own risk in which case we can provide collection information.

Collection from the ICA is FOC.
Please note that by purchasing one of our limited editions you are agreeing to our Terms and Conditions.
This work can be purchased with Own Art, which allows you to spread the cost of your purchase over ten months, completely interest free.
We work with contemporary conservation framers Frame London to provide the best framing options for your Limited Edition.  
For more information on framing options and OwnArt applications, please contact editions@ica.art