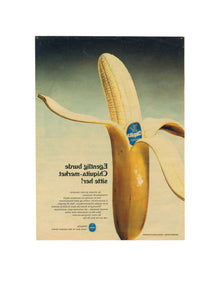 Gabriel Kuri, Untitled, 2010
Regular price £266.67 £213.33 Sale
2010
Offset lithograph on 100 gsm paper
50 × 36.5 cm
Edition of 60 + 5APs, signed and numbered

Gabriel Kuri is known for using ubiquitous found materials such as receipts, soda cans, plastic bags and newspapers to highlight contemporary consumer culture and the circulation of information and commodities. Calling himself 'a selector', Kuri produces works that are both inspired by and made out of a vast assortment of these found and repurposed materials.

Interested in exploring the life, function, and physical properties of the materials he uses, as well as their social, political, and economic resonances, Kuri's work interrogates balance – both formal and physical, with the end result, as highlighted in this edition, often appearing simultaneously humorous, precarious, beautiful, and awkward.

Important note: If your delivery address is not within the United Kingdom, you may be subject to import duties, taxes and delivery service charges, which are levied once a shipment reaches your country. You will need to pay any additional charges for customs clearance. Please note that customs policies vary widely from country to country, and we advise you to contact your local customs office for further information. Since January 2021 that includes all countries in Europe.

Or alternatively you can organise your own courier at your own risk in which case we can provide collection information.

Collection from the ICA is FOC.

Please note that by purchasing one of our limited editions you are agreeing to our Terms and Conditions.
This work can be purchased with Own Art, which allows you to spread the cost of your purchase over ten months, completely interest free.
We work with contemporary conservation framers Frame London to provide the best framing options for your Limited Edition.  
For more information on framing options and OwnArt applications, please contact editions@ica.art