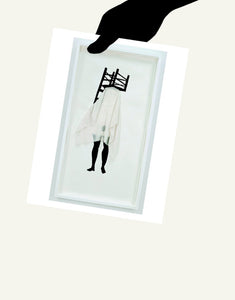 Frances Stark, Conceited Girl Wants to Show She Has a Seat (after Goya), 2009
Regular price £500.00 Sale
2009
Digital pigment print with silkscreen
47 × 37 cm
Edition of 100 + 5APs, signed and numbered

Frances Stark is known for works that explore the act of art-making and her own authorial authority, often employing elements of appropriation and collage. For the ICA the artist has created a new print that draws on motifs in her recent work, including collaged hands that enter the picture plane, and an image of a woman 'wearing' a chair (based on a Goya etching that satirises feminine display).

Important note: If your delivery address is not within the United Kingdom, you may be subject to import duties, taxes and delivery service charges, which are levied once a shipment reaches your country. You will need to pay any additional charges for customs clearance. Please note that customs policies vary widely from country to country, and we advise you to contact your local customs office for further information. Since January 2021 that includes all countries in Europe.

Or alternatively you can organise your own courier at your own risk in which case we can provide collection information.

Collection from the ICA is FOC.
 Please note that by purchasing one of our limited editions you are agreeing to our Terms and Conditions.
This work can be purchased with Own Art, which allows you to spread the cost of your purchase over ten months, completely interest free.
We work with contemporary conservation framers Frame London to provide the best framing options for your Limited Edition.  
For more information on framing options and OwnArt applications, please contact editions@ica.art